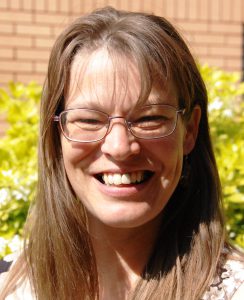 Principal Investigator
Dr Deborah Lycett PhD, RD is a Reader (Associate Professor) in Nutrition, Dietetics and Spiritual Health at Coventry University and a registered health care professional with many years of clinical experience. She has a successful track record of gaining funding, leading a research team and completing high quality research.
Dr Lycett is internationally known for her intervention research in both behavioural medicine and 'religion and health'; her particular focus is around eating behaviours, obesity and tobacco addiction. She has led several randomised controlled trials of healthcare interventions that include behaviour change techniques and those that combine these with religious practices.
Dr Lycett is on the scientific committee of the European Conference of Religion, Spirituality and Health and is a member of the British Association for the Study of Spirituality. She is on the education board of the British Dietetic Association (BDA) and is chair of the BDA Quality Standards Committee.  She is a Fellow of the Higher Education Academy, and teaches in medical and health science faculties.

Project Co-lead
Project co-leader Dr Riya Patel PhD is a Research Fellow at Coventry University. Dr Patel has a background as a health psychologist and completed a doctorate in religious aspects of obesity interventions where she conducted a feasibility study on the Taste & See Programme. She has expertise in the classification of behaviour change techniques, qualitative methods and systematic reviews.

Co-Investigator
Co-investigator The Reverend Dr Jonathan Jong is a Assistant Professor at the Centre for Advances in Behavioural Science at Coventry University. He is also a Senior Researcher at the Institute of Cognitive and Evolutionary Anthropology and Research Associate at the Ian Ramsey Centre for Science and Religion, both at the University of Oxford. He is an experimental and cross-cultural psychologist, whose expertise lies in the intersection between cognitive science and religious studies. He has recently been contracted by Oxford University Press to write a book on experimental research on religion. Besides his scientific expertise, Dr Jong has also published academic articles in philosophy and theology, and has taught psychology, philosophy of science, philosophy of religion, and theology at the University of Otago and the University of Oxford. His combination of interests and expertise is rare and invaluable to the success of a project like this. With his international collaborators, JJ has also received over £2 million in external research funding in the past five years; he has therefore developed experience and expertise in managing funded research projects.

Research Fellow
Dr Nazanin Khasteganan PhD is a Research Fellow at Coventry University. Dr Khasteganan has a background in exercise physiology and her PhD focused on new approaches in weight management interventions. She is experienced in  phenomenological and grounded theory qualitative research, quantitative research including cross-sectional survey design, systematic reviews and meta-analysis. Dr Khasteganan has now left the project.
Funding
Funding has been received by  Coventry University from  The John Templeton Foundation for this research to be conducted.